Women's Health
Women's Group
NCACCH hold regular Women's Groups giving community members the opportunity to come along to have a chat and meet other women. The types of things you could expect at our Women's Groups can include; arts and craft activities, having a guest speaker come along and talk to the group (for example a diabetes educator do a talk about preventing or managing diabetes or a dietitian come along and do a cooking demonstration on healthy meals), or activities like exercise groups (tai chi, walking groups) and more.  We're open to input from the women on what they would like for future Women's Groups.  If you have any questions please give us a call on 5346 9800.
Breast Screen Clinics
Breast cancer is the second most common cancer experienced by Aboriginal and/or Torres Strait Islander women. NCACCH holds Breast Screen clinics in partnership with Qld Health and BreastScreen Qld. The clinics give Aboriginal and/or Torres Strait Islander women the opportunity to have mammograms done in a comfortable, welcoming environment with other community members.
If you are 40 years and over and haven't had a Breast Screen in the last 2 years, please come and join us at one of our Aboriginal and/or Torres Strait Islander Breast Screen Clinics.  Book your Breast Screen here  BreastScreen Qld or call 13 20 50.  If you have any breast changes or concerns please contact your GP.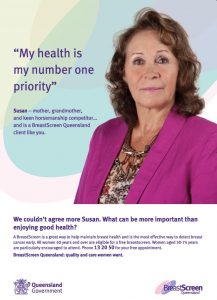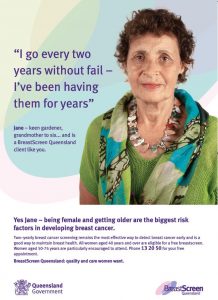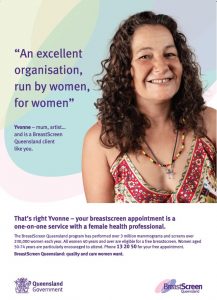 For more information please visit the following website's –
*  BreastScreen Queensland
*  Breast Cancer Network Australia
*  Cancer Australia
*  McGrath Foundation