Tackling Indigenous Smoking

"No Durri for this Murri® TIS Team"
The NCACCH Tackling Indigenous Smoking (TIS) "No Durri for this Murri®" program aims to information about tobacco dependence, reducing the harms of smoking, second-hand smoke and successful quitting for Aboriginal and/or Torres Strait Islander clients within the Sunshine Coast and Gympie region. The program will also offer advice, tips and education around the harmful effects of passive smoking, as well as smoking in the house and car around our young ones.
Working within the Tackling Indigenous Smoking national guidelines, NCACCH utilises a multi-level population health approach for its smoking cessation program. This approach includes regional health promotion activities delivered in community settings in collaboration with other local stakeholders. Additionally, in considering the need for an integrative approach to Tackling Indigenous Smoking, NCACCH provides opportunities to build the capacity of primary health care practitioners to deliver and refer to appropriate services to support community members to quit smoking.
The Djum Baal Challenge is a fun educational interactive activity that aims to share knowledge about the benefits of living a healthy lifestyle and the consequence of not. It covers subjects like the effects of smoking, eating healthy and cyber bullying to name a few. This activity is delivered in schools and is aimed at children from year 4 to year 7 and is inclusive to all students in that year level. For more information, please contact the TIS Coordinator on 07 5346 9800 or click here for the info sheet. Djum Baal Challenge Flyer
Let's Clear the Air – The healthiest places are smoke-free places
While it might seem harmless, second-hand smoke is dangerous, containing more than 60 chemicals that are known to cause cancer. When you smoke near your family and loved ones, they are exposed to many diseases and negative health effects.
Click on the link below and scroll down to the "Protecting Your Love One's" for more information on Second Hand Smoking and its effects on your family.
https://quithq.initiatives.qld.gov.au/quit-support/quit-now/find-your-reason/
Would you like the chance to WIN a No Durri for this Murri ®" hoodie or polo?
Enter the monthly draw by taking the "Let's Clear the Air" pledge today!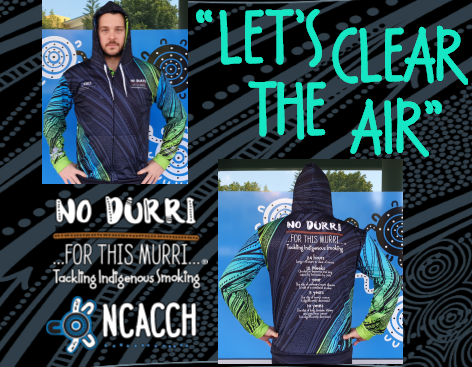 Ready to quit and want information about quit support? Follow the link to find out more https://ncacch.org.au/quit-support/
For more information please contact NCACCH on 07 5346 9800.